Some Basic FAQ's About Complete Dentures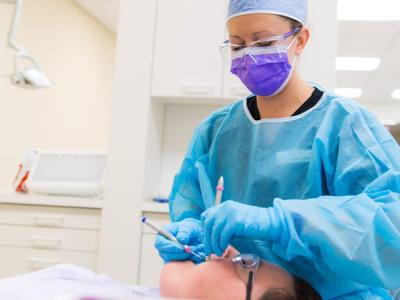 If you've lost your teeth due to an accident, periodontal disease, or even just the natural aging process, complete dentures will replace the teeth you've lost. The process of obtaining your dentures starts with the dentist removing any remaining teeth from the gums. There is a healing process involved, so you can choose to wear immediate dentures throughout the 6-8 week until the gums have settled. When the gums have healed, immediate denture will require a refitting. You can also choose the conventional method and wait for their gums to fully heal before having the dentures fitted.
Once you have your dentures comfortably fitted there are still a few uncertainties to be smoothed out:
Speaking – The truth is that although dentures replace the natural teeth, there will still be some getting used to when it comes to every day conversation. You may find that the dentures make a clicking noise when you speak. This happens because you are speaking too fast with your "new mouth"; slow down, take it easy, and the clicking will stop. Similar to someone who wears a retainer after getting their braces removed, the more you practice speaking the easier and more comfortable it will be.
Eating – Eating will also take a bit of easing into, but with a bit of practice you'll be effortlessly munching your favorite foods once more. The best advice would be to start with soft foods or small cut pieces. This will help you get in the habit of eating with both sides of the mouth. If one side is utilized more than the other, the lopsided motion can affect the fitting of the denture. Although you must still be cautious of hot or hard food, it won't take long until you'll be back to your normal diet.
Oral Care – Taking care of your mouth will be as important with dentures as with teeth. You still need to make sure that your gums and mouth are as healthy as possible. Maintain a regular brushing habit with a soft bristled brush, making sure to scrub the gums, tongue, and ridges of your mouth. It is important to make sure that denture and mouth are both cleaned before fitting them each day in order to avoid a bacteria build-up. So essentially you still have to maintain a regular brushing routine even though you have lost your natural teeth.
All in all, cosmetic dentures will allow you to regain your normal day-to-day life and feel great again. In fact, a good set of dentures can look as lifelike as your natural teeth, so you can smile confidently for years to come.